We have never tried an audio book before. So reviewing
The Cat of Bubastes
by
Heirloom Audio Productions
was something new for us.
Never had I had an audio book actually. My kids haven't either. It has always been text and book for us. We don't always read even e-books on our electronic devices. There is something about having a book in hand and being able to touch it and smell it. Also, it doesn't require an outlet.
I can't even tell you how many times we have listened to the audio book. I am going to venture to say a few hundred times. Laugh but it is true. My kids LOVE this. And it keeps them quiet in the car. That is a first. Audio books may become a new thing for my kids because they have fallen in love with them with this series.
I even like listening to it and it doesn't get old. I am going to equate this to Harry Potter and how I could read it over and over and over again. It is something that they and I love listening to any time we are in the car. We have listened to it and nothing else in the car for the last month. You may think I am kidding on this... but I am so not. If I take it out, I am asked repeatedly to put it back in. Sometimes by demand.
Another thing I like about this that is different than most audio books is that I can use the study guide to ask questions of the kids. I think this is a great because you can reach a child where they are at. Some are better at comprehending something through audio book rather than reading. So I love this idea of introducing things like history to the kids. Being able to use the study guide is a great way to reinforce what they have learned or let them explore what they think about it.
I like the ability to download the mp3 file too because every time I try to take the compact disc out of the car, I might as well be committing an actual crime... because they all fall apart. I like that they give you both because otherwise I would not be able to listen to it often. I am not all for mp3 files because they are mainly on the computer- I like having the CD but then again, maybe that shows my age. Haha.
Another thing, is that it does directly even deal with faith which is something one of my children has struggled with. They are more willing to talk about it through the context of this story then through just an outright study question-and-answer format that we are so used to now and days in brick and mortar schools.
The cast is amazing and does an amazing story of bringing the story to life. It has big names like people from Star Wars. When you have that kind of star power behind it, you know it is going to be done well.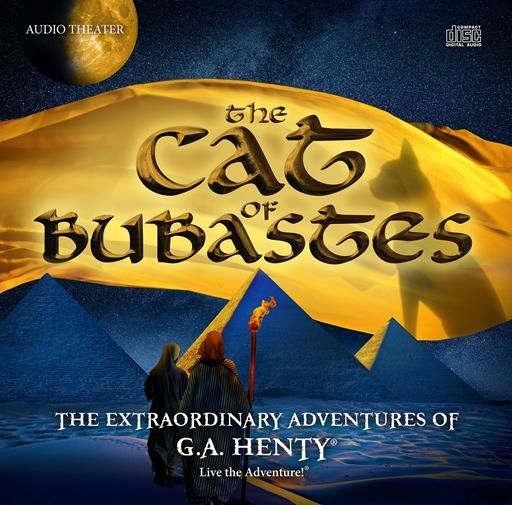 Avi's Review:
"I think The Cat of Bubastes is a good reminder of how it was back in ancient times when slavery was as common as flowers in a prairie. And it also shows that no matter what happens to you that you can change your destiny if you work for it. Overall, it is a really good story and it is long. It is pretty long and will entertain you for a while. I recommend it for ages eight and up because it has stuff some kids may not understand. Overall, I give four and half stars. Two stars for the content, another two stars for how well it was produced, and half a star just for the fun of it and because it's awesome."
Via's Review:
I really loved it. The only thing I would have problems with it are the words I didn't understand. It really is amazing story about how they take back your land after becoming a slave. All the characters are very good at what they do. It's just an amazing event. I love the end when it says where it takes a time and a place and it says it's for another story because you want to come listen to more. The Cat of Bubastes is really an amazing story and all in audio. It is good to go in the car and on the go. Just on a tablet too. It's really interesting to listen to. I could listen to i a thousand times and never get bored. It's a story about a prince named Amuba whose father, a man, and man others. All the characters play an important part. And that it ends with a story with the person taking back what was his and overcoming what happened before and taking back what he needed to do even though it was dangerous. And girls made it along with him. It is a amazing story who I think everyone should listen to. If I could I would give it it a thousand stars."
Kai's Review:
I asked him what he learned and he said verbatim:"I learned the God things. They didn't fight but they controlled the battles. You don't shoot straight at an animal. You shoot up *with hand motions* and ahead of it. That's how you do an animal. Don't do straight at it. The ibex. I.... Book! Yes! I love it! I say... when... when you very far,,, it looks like an ibex... it's an animal. And you can actually break a fence! You can break it with swords or arrows or metal things... maybe."
Some awesome kiddo reviews, right? I think their reviews though understate how much they love it! I do too and what a way to bring a family together! Thank you!