Foreign language is one of our favourite subjects and reviewing Hey, Andrew! Teach Me Some Greek! - Level 3

Set by

Greek 'n' Stuff

was absolutely no exception.
So my son's been debating on what languages to learn. When you're talking foreign language can often be a little bit tedious to think about what kind of language you want to learn but at the same time really exciting.
I wasn't a hundred percent positive how it was going to go with my son with wanting to learn Greek because he also wanted to learn Latin at the same time. It is quite difficult to do so. So when he got the chance, he wanted to do the Greek language.
I was really incredibly surprised that my son wanted to not only do the lessons but he wanted to actually take it with him to Boy Scout camp. He even said that he didn't care that it made him look a little bit like a geek because he was having so much fun learning it that he just wanted to sit down and finish the entire book on his free time.
Now, even from my son who loves to read who loves to do little projects this was incredibly huge for him to want to take anything like school work with him on a camping trip. He is only the kid who does not want to do that and in fact will turn his head if you ever ask him to do that but on this Greek he really wanted to take it with him.
I think the idea of being able to read an ancient text that is unusual to what we know in terms of linguistic writing is really cool. The cool part of it is that each character is a word in of itself. On top of it, each character is a sound like alpha or Omega or Delta. Then those sounds what indicate the sound you're going to make to make one word. Like, "dog" would be "Delta Omega Gamma" if it was spelt in the same way in English and Greek.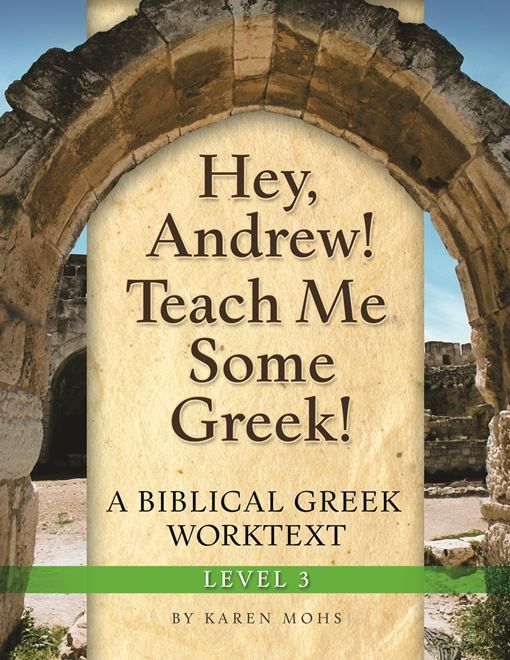 So it's not like other languages where the symbol means one word; so for example, Mandarin or Japanese that symbol could mean one word rather than a sound. So with Greek, it's kind of like a combination between what we know of as character languages today and a little bit of how English is written in terms of the sounds.
I am excited to continue to sit down and learn this with him especially because my son called me up while I was at camp with my younger son just to tell me how much fun he was having learning this which he is not done ever for a school lesson so that was really cool.
He has already asked me to buy him level 4 so that way he can continue learning.
So thank you to this company for making it really fun and easy for him to learn while having it be something he can do easily as well.
Avi's Review of Greek N Stuff
I had tons of fun learning Greek! It was simple, quick, and easy and I learned
the Greek alphabet within a day! I learned words like  and more! It is fun and easy to use and I'm determined now to learn Greek! 5 stars out of 5 because it's good quality and it's super-fast and it makes you want to learn more. I recommend you get this if you want to learn Greek Αντιο σας (Goodbye!)
Social Media Links: