Christmas is around the corner... Yes, Halloween is just a few days away but we start thinking about Christmas early in this house. We get to review

Personalized Framed Plaque with Name Meaning and Bible Verse by

CrossTimber.
I have really appreciated that they pick up quickly. I was able to put in my order pretty quickly for my daughter. My children have unusual names so doing their names isn't like a quick drop and go. I had to email the names to John and he was great about not only being genuinely interested in the names and learning about the stories of them but also looking up the meaning for them.
He was very genuinely nice about who he was talking to! I loved that! It shows when someone cares about the customers on the other side of the phone. How many times are you put on hold to find out that it ends feeling like you are talking to a robot of a human on the other side? Yea, I just cringed too because that was my last time talking to the power company. But he is not like that. He cares about you and even more impressive, he will remember your name and what you talked about the last time. He cares about his customers and that goes a long long way in my book.
When I was able to go to the site, it was not as intuitive as I would have hoped and it felt a little busy. That is just being honest. I do love though that they have scouts as a theme for the boys. Since my son is crossing over from Arrow of Light to Boy Scouts this year, I am a proud boy scout leader, I wanted to get him something special for him. So I will likely return to get him something!
On the phone with John, he was great about helping to pick what I wanted and getting my daughter a great Christmas present which is something to remind her how awesome she is and how much she is love and how much she is light.
I believe highly in the power of names.
In fact, each time I have had kids, I have had to the last second of deciding my children's full names and used every second I could. I drove the people in the hospital nuts. I wanted to make sure their names meant something powerful. Something that described who these beings were inside of my womb. Who I already knew. It is amazing how much a mother can listen to their child even before they are born. And each child I have had has their name for a reason.
My hope for my children is that they take these names and are able to use them and live up to them. Not in a mandatory way but more in an inspirational way. Their names are Sarah and Jack. And it is no disrespect to those with common names. I think there is beauty in it. There is always beauty in giving a name you know matches your child.
One of the cool parts was giving John a name that didn't fit the other eight hundred plus names he had already done. This was something new!
When I got it in the mail, I had to snatch it away quickly to make sure that my children didn't open it (since it is a Christmas present after all). When I opened it, it was something that was perfect in size (5x7) and will be so special to her, I am sure. I love the picture with the sunset in the background. It fits my daughter's name and her name meaning to the tee.
It was hard to pick a child to do this for. You never want to feel that you are picking favourites. She is the one who I feel needed the most inspiration to find her inner light.
With the Bible verse in it, thankfully her name had two meanings so I could use one of them. The one with the less biblically inclined meaning. She is not super into the Bible and protests it in fact (doesn't like to feel like she is being forced which I highly respect). So I want to respect that need of hers. He did a great job of including a verse that fit her and yet was from the Bible.
Guess what though?
YOU CAN WIN A HUGE Gift giveaway! Go go below and enter!!!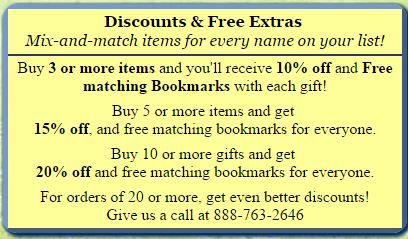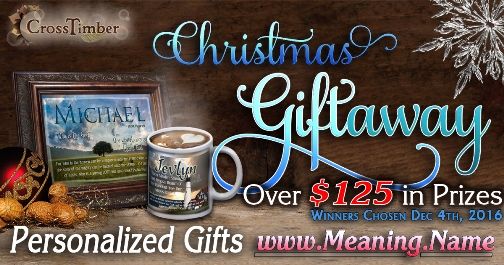 Follow Them: