This year, we are going to do "Cookie Season Lite" for Troop 5823, but we will support any high achievers as well. So just let me know if there is anything more I can do to support my families.
Here are some basics of what you need to know if you are in my troop (and if you aren't, feel free to be inspired or share).
Digital Cookie:
⇉ We are doing the digital cookie for pre orders and shipping orders! Find out how to set it up here!
All You Need to Know For Cookie Season:
⇉ You can check this out for links and helpful resources that will help cover everything you need to know about girl scout cookie season.
If you are in Troop 5823, this includes a lot of important information, so please take some time to read it.
Form For Submitting Initial Orders (for Troop 5823 only):
⇉
Girl Scout Cookie Initial Orders 2018 Form.
Fill this out by 15th Jan. Cookies come in right before Valentine's Day.
Cookie Booth Patch: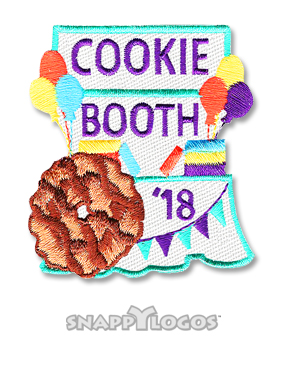 Requirements: Do at least one troop cookie booth.
Other Cookie Season Posts:
COOKIE SEASON Past Posts:
A Fun Way to Engage Your Cookie Booth Customers
10 Things Your Girl Scout Cookie Mom Wish You Knew...
All You Need To Know For Cookie Season
All About Girl Scout Cookie Booth
Girl Scout Cookie Season Q & A for Parents
Girl Scout Cookie Order Form {Troop 5823}
Great Prizes for Cookie Season 2016
Great Cookie Sale Prizes For Girl Scouts in 2017
How To Survive Cookie Season {For Leaders By Leaders}
Initial Cookie Pick Up Sign Up {Troop 5823}
Initial Order for Cookies {Troop 5823}
Intent for Girl Scout Troop Renewal for 2016-2017: Troop 5823
Resources and Files for Girl Scout Cookie Season
Q&A for Parents
Q&A for Customers
Valentine Deals with Girl Scout Cookies
Where Girl Scout Cookies Go